This Article is about one of the three Monsters using the same name.
For other uses, see Fatalis (Disambiguation)
Crimson Fatalis Discussion


Crimson Fatalis is an Elder Dragon introduced in Monster Hunter G.
Physiology
Crimson Fatalis is a Fatalis whose shells and scales have become a reddish-crimson color after generations of exposure to the Volcano. One of its four horns is extremely overgrown in comparison to the rest.
Behavior
Extremely aggressive and violent, even by Fatalis standards. Crimson Fatalis' rage is nearly everlasting. The dragons natural element of lava and its extreme rage go hand in hand. It will kill anything in its path without a second thought.
Habitat
It lurks in the depths of the Volcanic Belt, where it lives as one with the environment.
Other Non-Subspecies Forms
G-Rank Crimson Fatalis (Monster Hunter Frontier G)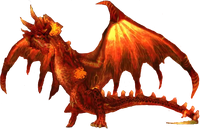 It is fought in the Deep Crater and is fought as a Conquest War Quest Monster. It was released on April 30, 2014.
It is the only known monster to use the new Crimson Demon Element.
Game Appearances
Chronological Appearances
| | | |
| --- | --- | --- |
| First US / EU Appearance: | First JP Appearance: | Latest Appearance: |
| (2006) | (2005) | (2017) |
In-Game Description
Monster Hunter 4

(?)




Threat Level (危険度): ★★★★★★

Monster Hunter 4 Ultimate

(?)




Threat Level (危険度): ★★★★★★

Monster Hunter Frontier G

(?)
Music Themes
| | |
| --- | --- |
| | MH: Crimson Fatalis & Fatalis Music Theme |
Play MH4U: Crimson Fatalis Variant Music Theme
| | |
| --- | --- |
| | MHF-G: G-Rank Crimson Fatalis Music Theme |

Crimson Fatalis shares its music theme with Fatalis.
In Monster Hunter Frontier G G-Rank Crimson Fatalis gets two new themes. The first one plays when Crimson Fatalis is calm, while other theme plays when Crimson Fatalis is in its second stage of Rage.
MH4U Breakable Parts
Notes
Ad blocker interference detected!
Wikia is a free-to-use site that makes money from advertising. We have a modified experience for viewers using ad blockers

Wikia is not accessible if you've made further modifications. Remove the custom ad blocker rule(s) and the page will load as expected.