Kulu-Ya-Ku are Bird Wyverns first introduced in Monster Hunter: World.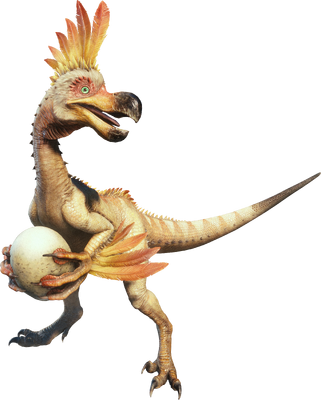 Physiology
Kulu-Ya-Ku has a body shape similar to other raptorial Bird Wyverns, such as Velocidrome. This monster is covered in light brown scales and has a face that greatly resembles a Dodo. Though it is mostly covered in scales, it also has feathers on its head and arms.
Abilities
Kulu-Ya-Ku is able to pick up small boulders and use them to protect itself from incoming attacks. It can also toss said boulders at foes from a distance.
Habitats
Kulu-Ya-Ku can be found living in the Ancient Forest and Wildspire Waste.
Element/Status Effectiveness
Kulu-ya-Ku Damage Effectiveness
Element
Effectiveness
Status
Effectiveness
Fire

★★

Poison

★★

Water

★★★

Sleep

★★

Thunder

★★

Paralysis

★★

Ice

★★

Blast

★★

Dragon

★★

Stun

★★
Game Appearances
Chronological Appearances
| | | |
| --- | --- | --- |
| First US / EU Appearance: | First JP Appearance: | Latest Appearance: |
| (2018) | (2018) | (2018) |
In-Game Description
Monster Hunter: World

An odd bird wyvern that has developed limbs capable of carrying weapons. It's been spotted stealing eggs from nests found in the Ancient Forest and Wildspire Waste.
Notes
By using the Slinger, hunters can easily knock rocks out of the Kulu-Ya-Ku's hands.[1]

Hunters can also break the rock by hitting it multiple times with their weapon.

Kulu-Ya-Ku's head and arms can be wounded.
References